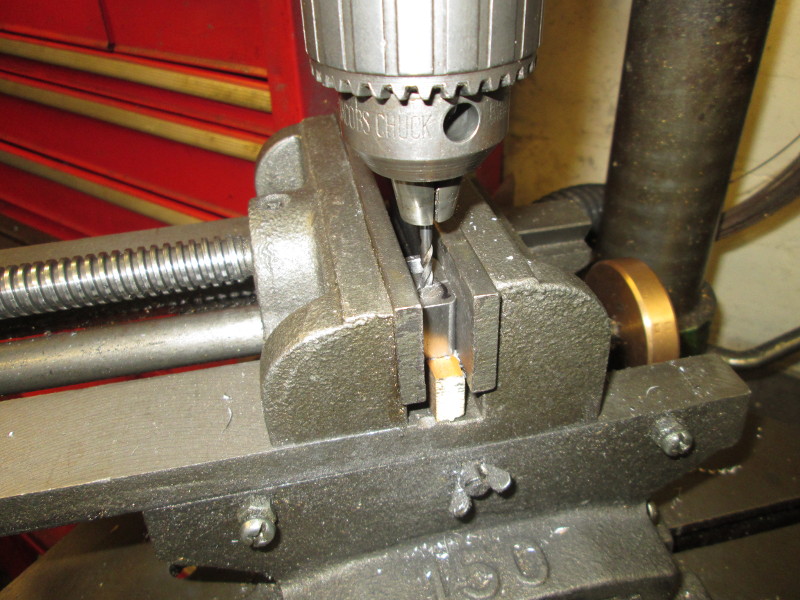 First job this morning was to cut the keyway in the actuating arm. I plugged the hole with a piece of 1/4" stock and drilled it 1/8" to give me a straight start.
Then out with the warding files and a bit of patient filing and fitting.
The cam is a good tight fit on the key. Now we have to estimate how much to cut off the brake band and rivet the connector on the end. You wouldn't believe what a fiddle this is. I admit to flying blind a lot of the time!
I made the best estimate I could and set about fitting the connector.
For better or for worse, here it is firmly attached!
I hit a snag. The brake arm fouls the bed plate so I relieved the end of it.
It took a lot of fiddling and swearing but I eventually got it all laced up and working. I got the length of the band about right and the angle of the cam. The brake band connects but not quite the powerful brake I expected, it could probably do with a friction lining but in terms of the mechanism it is a good and accurate representation of the brake. It's never going to have to be used in anger so this will do me. I reduced the pedal a bit, it was too clumsy. Looks better now.
I married the two halves up. Looking impressive even though I say it myself! Next job is to erect the entablature and the bearing for the pinion. This and the flywheel will govern the relationship between the two halves and it ain't going to be easy! I shall have to give this a bit of thought before I go any further. But that is for tomorrow..... It's knocking off time.